Guide to Setting the SSID WIFI.UM and WIFI_1X.UM Using MAC OS
SETTING WIFI_1X.UM
1. Click the Wireless Icon in the upper right corner of the laptop
2. Then several SSID options will appear. Select WIFI_1X.UM
Automatic select mode. Fill in the username and password according to your single account (single accounts are usually used to log in when filling in Kinerja.um.ac.id (ppkpns) or siakad.um.ac.id). Click join
3. If successful you can use the Internet.
WIFI.UM SETTING
1. Click the Wireless Icon in the lower right corner of the laptop / PC
2. Then several SSID options will appear. Select WIFI.UM
After that the browser will automatically pop up the certificate. Click continue.
3. Enter the login page. Enter the username and password according to your single account (single accounts are usually used to log in when filling in Kinerja.um.ac.id (ppkpns) or siakad.um.ac.id). Click submit.
4. If successful, you will be directed to the um.ac.id page, which means that you have connected to the Internet.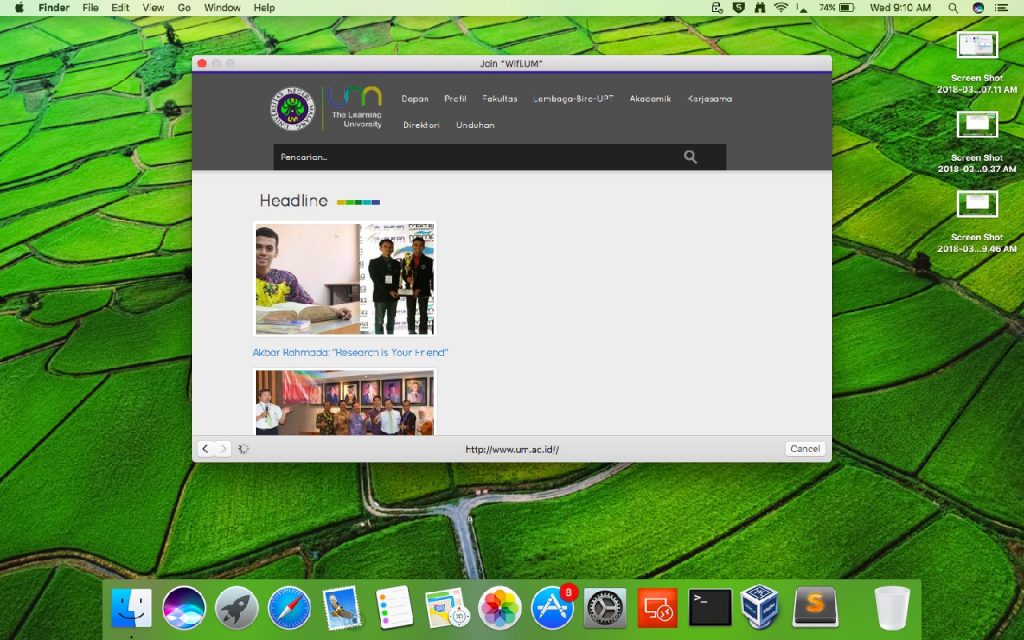 NOTE:
UM and WIFI.UM can be used by all students, lecturers, and educational staff at the State University of Malang.
It is better to use WIFI_1X.UM than WIFI.UM because wherever there is WIFI_1X.UM your laptop will automatically connect to the WIFI without resetting it (such as entering a username and password).
If you can connect to WIFI_1X.UM or WIFI.UM but still not connected to the Internet, please go to wifi -> Open Network Preferences -> Advanced -> Select the WI-FI tab -> Preferred Network -> select WIFI_1X or WIFI.UM - > click the sign - (minus) -> Click Ok. Then repeat the steps for setting up WIFI from the beginning as above.